Sophie Collins, Who Is Mary Sue? (Faber £10.99)
"- Your breath smells like peaches.
– Can you give me something for the pain?" — from 'Eight Phrases'
Who Is Mary Sue? is haunted by countless figures; a nameless female writer; the eponymous O from Réage's Story of O, 'Mary Sue' herself, even nothingness (in the plenty blank pages that abound, poor trees) to name a few. The book, Collins' debut, features poems ranging from minute lyrics, extensive prose poems to found poems/reportage lifted from interviews. The spine of the text lies in the ways Collins grapples with the term 'Mary Sue', I quote:
"Coined by Paula Smith in 1973, 'Mary Sue' is a pejorative term used by writers and readers of fan fiction to describe protagonists who are believed to be thinly disguised versions of the fan fic author's idealised self.
There is no outright consensus as to Mary Sue's character type.
Invariably, however,
Mary Sue is female;
she is said to be difficult to identify with, poorly constructed, without
depth;
she is associated with narcissism and/or wish fulfilment." (19)
What gripped me about this terminology was the contempt associated with the term. Difficult enough, I think, to make a name for oneself in the writing world. Collins presents a reality where a woman's character, if she is 'unpleasant' or goal/fulfilment-oriented, is dismissed, classed as unrealistic or difficult to relate to. Without doubt, Collins (with a precise pen point) has an artistic master-hand over this book's formation. In the section which gives the volume its name, Collins writes of the subsequent "fear" that is felt by female writers, how this fear can be "restricting and even silencing". The two blank pages that follow Collins' paraphrasing of young author's personal concerns of having written a 'Mary Sue' present a palpable fear of writing itself.
The term itself, 'Mary Sue', hence becomes a method for suppressing women's writing. I'm drawn to thinking of Ibsen's character Hedda Gabler and the critical uproar she caused(…because she had…agency); yet dramatic male leads of the past are striving for their goals? The defences I've read of male roles poke up the layered hypocrisies of the labelling of these female characters as flimsy, etc. Interesting to consider a woman actually coined this term (which ultimately poses a method of suppression).
So emerges my main query of Collins' text. How original can a text be that riffs off of a term that's foundations rest in an unoriginal source, i.e. fanfiction? I was left wondering what Collins' thoughts and manoeuvres are regarding the originality and potentiality that fanfiction provides. The poltergeist of a 'Mary Sue' hovers over the bed of this potential and attempts to suffocate it with a pillow… Regarding these questions of originality, there is a, in places, flustered heaviness of intertextuality that permeates Who Is Mary Sue?. Intentional perhaps? If Collins' intention for the volume's trajectory is to use this concern of originality, maybe, but in the same stroke this works to dilute some of Collins' focus, I think. One need look as far as the Acknowledgement page to note the huge range of sources she draws from as inspiration for her collection. A multi-modal range of sources, translations, visual artists, etc.
The two segments 'The Engine' and 'The Engine Continued' resonate with the short story 'The Engine Stops' by Forster. "Beware of first-hand ideas! … First-hand ideas do not really exist" (Forster, 'The Machine Stops'). If a Mary Sue is not a first-hand idea, i.e. she is based off of a character already conceived by a different writer, what is she? From Collins' poetic tone (equal parts cutting and playful), she is arguably raising horns against this … (poetic) snobbery. What difference is there in Sinéad Morrissey paraphrasing Philip Larkin to tear him to shreds in her fantastic poem 'On Balance' and Collins' grappling with less 'literary' sources? I question if the structure of Who Is Mary Sue? queries the antiquatedness of established strictures as such. Patriarchal forces, of course, but also perhaps the difficulty of being a woman writer, a woman publisher, and so on.
'Healers' is a salient poem regarding structure which depicts a scaffolding (that Collins understands as feminine – "At first I didn't notice her" (14)) outside the Holy Trinity Church in Vladimir, Russia. Dismantling, in this poem, becomes a form of healing. I suggest that much of the creative force behind this entire collection, much of the concerns Collins has at least, can be focalised in this poem. This scaffold:
"She was fundamentally insecure.
She told me that good foundations are essential
but the men who had put her together
hadn't taken the right opportunities.
…
"Now, each day, someone came by
called her 'unsafe' and also 'a liability'" (14)
A very clever image to portray femininity as a constructional tool (offensive image, too…), when this scaffold is useful/essential, it is beneficial, yet when it is rendered redundant, it is subjected to these harsh seasonal winds, while the transcendent, masculine mural of Saint Artemy of Verkola defies decay. A poem of developing, building sounds, demonstrating blame being enacted onto a scaffold that has done nothing more than exist, this poem's conclusion on an "unbearable sound" leaves little to the imagination regarding Collins' intent.
As such, I think Collins is rehearsing concerns regarding identity (among several others!) through much of this collection. Note the (very small) exemplar of figures a few paragraphs above. 'Postface' presents an epilogue of sorts to the collection; a list-poem and the only naming the subject has is impersonal pronouns, i.e. 'She'.
"The author opens a box marked VIOLENCE AGAINST WOMEN
BOX 4…/
She transcribes, In shame, I am the object as well as the subject of
the feeling…/
She prints new work.
She travels south." (98-9)
Collins concludes her collection with, I suggest, a stripping of the suppressive power of the title term. Mary Sue has been named surely, and her power to silence (found throughout 'Preface') is defused in the nameless female writers ability to print new work. Progress in work, and forward progress in movement.
I would genuinely recommend a trip to your local bookstore (NoAlibis [Belfast], Little Acorns Bookstore [Derry], g'wan, support local!) and have a wrestle with this book. A very promising debut, and indeed motivation to explore Collins' other writing (found throughout journals like Ploughshares and Poetry London), and anticipate her next steps…
Who Is Mary Sue? written by Sophie Collins is published by Faber and Faber Ltd. (2018).
About the Author:
Sophie Collins grew up in Bergen, North Holland, and now lives in Edinburgh. She is co-editor of tender, an online arts quarterly, and editor of Currently & Emotion (Test Centre, 2016), an anthology of contemporary poetry translations. small white monkeys, a text on self-expression, self-help and shame, was published by Book Works in 2017 as part of a commissioned residency at Glasgow Women's Library. Who is Mary Sue? is her first poetry collection.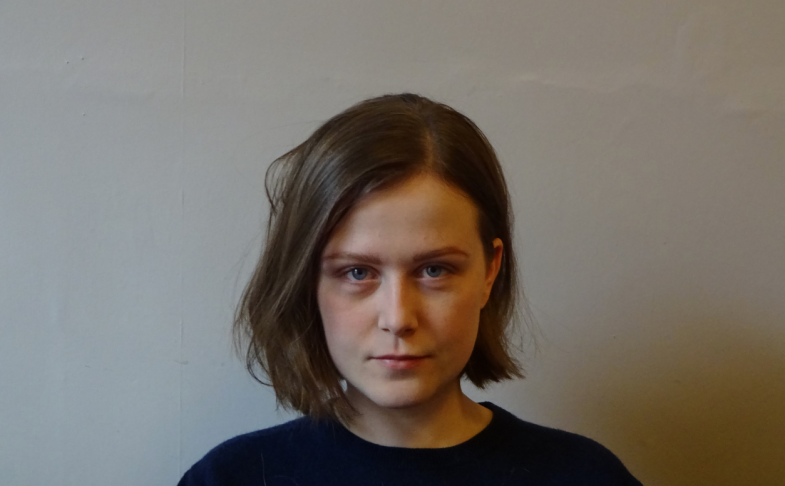 If you have any personal thoughts / questions / contradictions please express them, and thanks for reading.
M
07/05/18